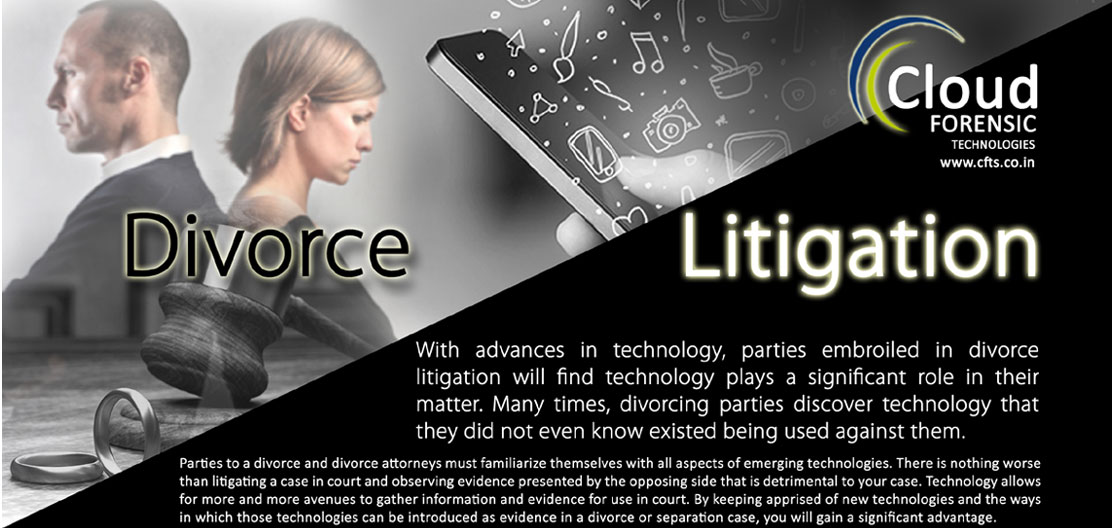 Divorce Litigation

New websites and smart phone applications causing divorce
The World Wide Web is home to 3.32 billion pages across the globe. There are also millions of smart phone applications. Because creating a website or mobile application is so easy, new sites and applications (apps) are created every day that impact the family core and therefore divorce rates. The content within these websites and apps are cited in divorce proceedings as evidence of the breakdown of the parties' marital relationship, evidence of income or the activities or whereabouts of a party or child.
Aside from Facebook, discussed below, two specific newer applications have caused havoc among matrimonial relationships. They are Tinder and Ashley Madison.
Tinder is a mobile matchmaking application that uses GPS technology and Facebook to locate nearby potential "matches", which many users of the application utilize to engage in sexual activities.
Ashley Madison is a website that promotes extramarital affairs. There are 37 million users of this website worldwide.
The mere access to sites and applications like these may be grounds for divorce in some states and countries. For example, a judge in Aix-en-Provence, France, recently ruled that flirting on online dating sites constitutes grounds for divorce, regardless of whether or not the spouse had any "physical contact" with any online suitors.
Information gathering from social media
One of the most prominent methods to gather information for use in divorce cases comes from social media websites. Social media outlets allow divorce litigants to gather information about the opposing party and other people that may be connected to their case, such as information about a boyfriend or girlfriend of a party.
REPORTS SHOW THAT ONE-THIRD OF ALL DIVORCE PROCEEDINGS MENTION THE WORD "facebook"AT SOME POINT

Facebook has over 1.3 billion monthly users. Chances are a party will appear on Facebook, either on their own "page", or on someone else's page. Reports show that one-third of all divorce petition filings mention the word "Facebook." Facebook allows for people to easily connect with past relationships, schoolmates and others with ease, and therefore Facebook is often an instigator of extramarital affairs.
IN ONE CASE, AN INVESTIGATOR WANTED TO FIND THE WHEREABOUTS OF A DIVORCE CASE DEFENDANT IN ORDER TO SERVE HIM WITH DIVORCE PAPERWORK.

The investigator created a fake account with a picture of an attractive woman to entice a man to "friend" this fake woman on Facebook. The investigator was able to track the man and served him with divorce paperwork after arranging for a meeting between the man and the fake woman.
GET AN EXPERIENCED INDIAN DIVORCE LAWYER ON YOUR SIDE!

For additional information about divorce, call our Indian divorce attorneys today. We are certified family law specialists and divorce experts that want to help you succeed in your case. We provide a free, private consultation to discuss your options in a meaningful, straightforward way.
IN MANY CASES, ATTORNEYS MONITOR THE TWITTER ACCOUNT OF THE OPPOSING PARTY TO DETERMINE WHETHER THE PERSON TALKS ABOUT THE DIVORCE CASE, DISCUSSES ASSETS, OR PROVIDES ANY OTHER HELPFUL INFORMATION.
Twitter can be a useful source of information in a divorce case. Twitter's purpose is to allow a person to make a short statement to the general public about any given subject. These statements are often used in a court of law. Any statement made by a party can be used against that party in court as a party "admission." In many cases, attorneys monitor the Twitter account of the opposing party to determine whether the person talks about the divorce case, discusses assets, or provides any other helpful information. Divorcing parties should be careful not to share any information on Twitter.
Can an attorney serve a subpoena on social media companies?
Parties going through divorce should assume everything put on social media sites can and will be viewed by anyone, including the opposing party and their team of attorneys and experts.
Information gathering from electronic communications
Another prominent use of evidence in divorce cases is electronic communications. Such communications entail interactions between the parties themselves or between one party and other third persons. Electronic communications often find their way into divorce litigation cases because they may tend to support a party's contentions, contradict a party's contentions, or provide other useful benefits.
The primary electronic communications used in divorce proceedings include text messages and email correspondence.
Text Messages
Nearly every seasoned divorce attorney will tell their client during their first meeting to be careful what they type in a text or email message. Text messages often find their way into court battles, particularly over child custody and visitation issues.
Subpoenaing text messages
BY THE TIME A SUBPOENA REACHES THE SERVICE PROVIDER, THE TEXT MESSAGES SOUGHT HAVE LONG SINCE BEEN PURGED.
TEXT MESSAGES ARE ONE OF THE TOP THREE ELEMENTS OF ELECTRONIC EVIDENCE USED IN DIVORCE COURT.
Mobile, Email & WhatsApp Communications

As with text messages, email communications are often used in divorce and custody cases. The same mantras apply to email messages as text messages. Assume everything you write will be presented to the judge in divorce court, and always save and backup your email communications from your computer to an external hard drive or other storage device.
Computer Hard Drives

EVEN DELETED INFORMATION ON A COMPUTER'S HARD DRIVE CAN BE OBTAINED BY FORENSIC ANALYSIS.
Authenticating and hearsay issues related to electronic communications
Alternatives to text and email for communicating with opposing party
PROGRAMS SUCH AS OUR FAMILY WIZARD PROVIDE PARTIES WITH A VISITATION CALENDAR, APPOINTMENT CHART, AND INTERNAL "EMAIL" COMMUNICATION TO ALLOW THE PARTIES TO SEND MESSAGES TO ONE ANOTHER.
Information gathering from GPS location devices
One method divorce attorneys are finally catching on to using to gain information for use in divorce cases is Global Positioning System (GPS) device data. GPS technology can be found in numerous technologies, some of which may surprise some family law litigants.